Today, the Church of England commemorates the life of Nicholas Ferrar (1592-1637) as a 'minor festival'. Nicholas Ferrar was a scholar and businessman, briefly an MP, and a deacon in the Church of England. He was a close friend of the poet and hymn writer, George Herbert.
In 1626, having lost much of the family fortune in the Virginia Company, he retreated with his family in 1626 to the manor of Little Gidding in Huntingdonshire. Soon he began to organise his household (of some thirty people) into a regular life of prayer (based on the Book of Common Prayer), discipline and charitable works in the locality.
The Ferrar family were of the High-Church party and Royalists. King Charles I visited the manor three times, including on 2 May 1646 seeking refuge after the Royalist defeat at the Battle of Naseby.
Little Gidding attracted much criticism from the Puritans, who denounced the Ferrars as forming a 'Protestant Nunnery', insinuating that they were covert papists. In fact, the household never lived a formal 'religious life' and was not a religious community in the Catholic sense, ie with a Rule, vows and enclosure, but just an extended family seeking to live a disciplined Christian life of prayer, fellowship and service of others.
As one writer puts it, Nicholas Ferrar was simply "trying to find a fruitful via media between protestant and catholic understandings of what it is to be Christian. As a member of a reformed church he and his community were devoted to reading the scriptures in their own language, to sharing their faith, and to worshiping together in the beautiful services of the Book of Common Prayer. But he was also keen to preserve and explore the Catholic heritage of community life, the daily offices of prayer, and praise, the pattern of Benedictine work and prayer, rooted in the psalms and the gospels."
In this sense, despite its distance in time and culture, Little Gidding provides a powerful symbol and example of so much needed in our present circumstances, ie extended households seeking to share together in a life of ordered prayer, fellowship and service of those around them.
Some four years ago, I spent 24 hours at Little Gidding. Little Gidding is a tiny hamlet, close to the larger village Great Gidding. The original manor is long gone, replaced with a smaller house, which is now a retreat centre. The church, rebuilt in 1714, is still there, however. One of its most distinctive features is its lack of electric lighting, meaning that services after dark are by candlelight!
There are two kneelers in the church. Each provides an almost prophetic symbol and impetus to pray and act to build community, and sow bountifully, so that we would reap bountifully (1 Corinthians 9:6-12), and for the Lord of the harvest to send out labourers (evangelists) into His harvest (Matthew 9:38; Luke 10:2) (although, of course, John is here referred to as an 'evangelist' in the sense of gospel writer).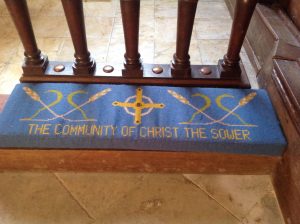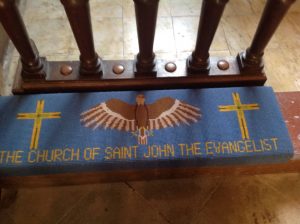 The community at Little Gidding continued for about 20 years after Nicholas Ferrar's death, but finally disbanded in around 1657. A friend of mine, the late Tony Hodgson, with his wife and family, sought in the 1970s to re-establish a community at Little Gidding. Again, the community continued for a time, until disbanding. But the symbol and exemplar of Little Gidding lives on, and I hope provides some inspiration to us in Village Hope, and to all seeking to encourage, catalyse or build communities (real or virtual) of prayer, study and service in the villages and hamlets of Britain in our time.
Loving God, the Father of all, whose servant Nicholas Ferrar renounced ambition and wealth to live in a household of faith and good work: keep us in the right way of service to you so that, feasting at the table in your household, we may proclaim each day the coming of your kingdom; through Jesus Christ your Son our Lord. Amen.
[This is a revised version of a post first published in 2018.]